About Us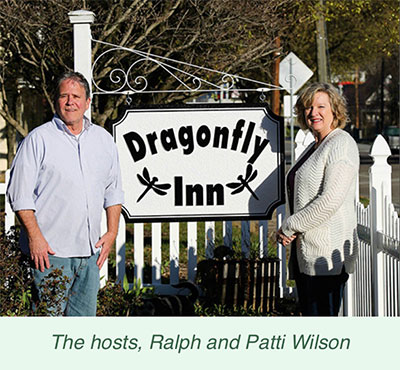 Here at the Dragonfly Inn you will be hosted by Ralph and Patti Wilson. Ralph has had many years of experience in the hospitality industry as a retired General Manager for Cracker barrel. You will be delighted with the friendly and cosy atmosphere of this beautiful Inn located in the gorgeous region of Damascus, Virginia. If you are looking for that perfect mountain getaway then give us a call today!

We pride ourselves on offering our guests that traditional sense of hospitality when they stay at our Inn. We are a small establishment that offers you personable and friendly services whilst also giving you the privacy that you desire on your getaway. Our rooms are decorated in classical décor, giving you that sense of a traditional country home. Each of our rooms also comes with a bath, free Wi-Fi and cable tv. Each stay also comes with Breakfast for two at our Diner, which is located only a block away from the Inn.

Let us help you unwind and relax and ensure that you are completely comfortable while you stay and explore this stunning part of the Country!